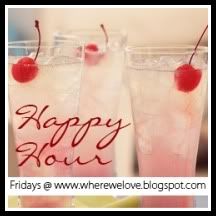 So I just came across
this blog
today and like what today's post had to say. It is called Happy Hour as you can see. All you do is enter the party, visit the blogs that are joined in the party, comment on them, and then go back to Love Is Home Blog and comment to her what your two favorite blogs are. I absolutely LOVE this idea since I am new to blogging. It is a way to interact and find great new reads!
This week has been busy and wonderful....
Tuesday
was my monthly bunko night. It is a good time to talk, play, and see everyone's beautiful homes. Personally, this Tuesday night bunko just made me want to decorate my house...
Wednesday
was interesting. Long story short...I went to take my boss' car to get his oil changed (yes, I do this) and I started looking around the lot. This wasn't a crazy instant decision, people--Hubs & I have been looking for me a car. My baby, Fonda the Honda has been with me EIGHT wonderful years, but it was time. So I got
THIS
. Love, love, love...did I say love? I am obsessed.
Thursday
was my first beginners sewing class. It is a six week class that is two hours long. We are going to learn the basics of sewing while making a skirt and top. I am super excited about this. I will definately keep you all updated on how it is going. So far, so good. We got our supply list and talked about what we will be doing. Homework--> find our fabrics, bring supplies back and our sewing machines. Cannot wait to learn this wonderful craft :)
And today is
Friday
...we have no plans just yet. Hopefully it will warm up again. I am ready for this Mississippi weather to figure out what it wants to do and I am hoping that means SUN.
So if you are a blogger...head on over to
Love is Home
and check out Happy Hour. Tonight I'm drinking some Pinor Noir that's unopened if it stays chilly. If it is warm, I'll open my favorite Sam Adams Noble Pills.